NEOGEN GLOBAL
NEOGEN DERMALOGY PROBIOTICS RELIEF TONING PAD (50 PADS)
I'm losing firmness and elasticity :(
HOW CAN I RESTORE THIS?
Amazing Probiotics Shield

#Calming & Tightening Pad

Probiotics Relief Toning Pad
Hydrate and Firming Care that quenches extremely dry skin

Probiotics Toning Pad provides skin with hydration and firmness to soothe dry skin and smooth out uneven texture

STEP 01 Embossed Side
Sweep over areas like nose, forehead, chin or other specific areas as necessary

STEP 02 Smooth Side
Gently sweep over entire face
혻1. Calming & Firming Care
Boosts hydration and firms skin to soothe the appearance of rough skin into a smoother texture
2. Probiotics Skin Mantle
Probiotics supports to visibly improve and firm skin texture
3. Healthy & Balanced Skincare
Optimizes skin to its best pH level- slightly acidic- for a healthy skinbiome (skin condition.)
4. Boosts your skin condition
Infused with more than 100,000ppm of Rice Ferment Filtrate made by fermenting rice, this compressed facial pad helps smooth and promote a glowing skin and improves the absorption of next skincare products by removing all makeup residues.
Improves overall skin health, which helps to protect against environmental aggressors and support the skin into a healthier complexion.
Probiotics is derived from the process of fermenting or dissolving, not a live cell of Lactic acid bacteria, and includes Lactobacillus Ferment Lystate, Bifida Ferment Lysate, and Streptococcus Thermophilus Ferment.

*The above information is based on properties of the ingredients only
Helps skin maintain a slightly acidic pH level of 5.5~6.5 and helps balance and protect skin barrier.
Recommended for these people!
Help improve skin texture by lightly cleansing and sweeping
Help form a firm probiotics protective layer
Help soothe irritated skin from environmental aggressors
Help improve rough and dry skin into a smoother texture
Help fully eliminate makeup residues and impurities혻 after cleansing
HOW TO USE

After cleansing, take one pad and sweep across the face while avoiding the eyes. Gently sweep away across the neck along the texture of the skin and lightly tap to absorb the remaining essence.
STORAGE TIP
> Store the product upright.
> After use, press the middle of the inner cover and close the product.
> Firmly press the middle to seal completely.
Customer Reviews
Write a Review
Ask a Question
01/26/2021
Ruth G.

United States
Super relief!!!
I will start by saying that I am a fan of Neogen products for the quality and effectiveness they provide. These pads are no exception. I have sensitive skin and I usually have "auxiliary products" with me for the moments when my skin experiences some sensitivity. I love all the products in the probiotic relief line, but these are one of my favorites. They are so cool and soothing !!! I am going through a period of sensitivity that has been more extensive than usual and these pads have been my salvation. This is my third bottle and I don't think it will be my last. I would just like to point out, from my sensitive skin, that I would prefer that the products that were manufactured to repair and strengthen the skin barrier were fragrance-free, even though it is natural. I think this complete line would be perfect if it was fragrance free. Thank you very much for these pads. I love them!!!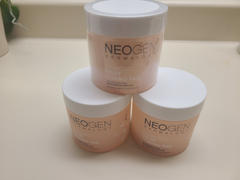 12/30/2020
Vivi

United States
Surprisingly Good Toner
To be honest with you, at first, I was skeptical about this product since I've heard it has a distinct sweet-yogurty smell. However, I also heard how probiotics are good for the skin (since they're great for our body too). Therefore, I decided to add this to my skincare routine. It has been about maybe 2-3 months (I don't know the exact time) and I absolutely love it! In the US, all of our toner products are drying and tend to be chemical, I don't think a drying toner is good for any skin type (even if you have oily skin since you get oily skin because your skin has a lack of moisture). This toner is nice, it feels like it's helping to clean my skin AND moisturize it (and not dry it). I really recommend this as my skin feels less like I've been on a marathon (aka not sweaty and oily) or being extremely like a desert.
09/01/2020
Andrea C.

US
LOVE This!
I don't where to start, I love the Smell of this all over my face, it has improved and fixed my discoloration as well as hipermigmegtation, I can also see my peores getting smaller and tighter and overall my face a lot More brighter... the dull days are over me!! Thanks so much Neogen for an amazing product!!